It's Time to Shake Up the Realm
Every time we capture a new idea and turn it into a lasting impression that truly matters we are building on our transformative mission to revitalize the way communications have been done for over 565 years.
Only those who really know what they are doing can successfully create a physical printed specimen from a marketing concept and present it beautifully and efficiently, as a substantial and captivating part of the real word today.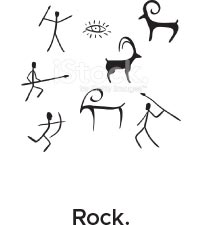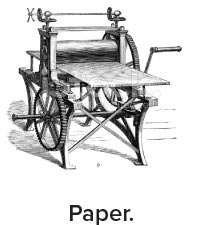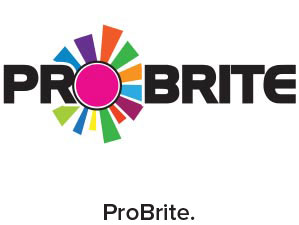 No More Create, Wait, Pray
Highly structured brands, carefully crafted plans and beautifully designed corporate communications, retail experiences or hand-to-hand touch points deserve a production partner who delivers an
exulted transformation into hard matter. Sure you can print stuff almost anywhere – but if you seek something awesome, something that differentiates your vision, pleases the human eye – captivates and then activates your customers – then you need our help. Together we will smash the ancient client-printer paradigm of Create, Wait, Pray.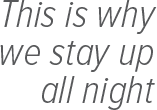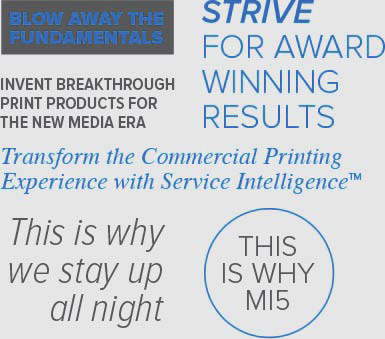 What We Do
Best in class litho, digital and wide format commercial print solutions; targeted marketing solutions; direct mail, kitting, fulfillment and distribution; and especially custom product development. One call does it all. Let us bring your award winning marketing ideas to life.
45%
Litho Print
35%
Digital Print
20%
Large Format
PRINT PASSIONISTAS
175+
Print Passionistas
noun: print·pas·sion·is·ta \ˌ 'print-pa-shən-ˈēs-tə\
Definition
2)  An empowered Mi5 Print team member be it sales, account service or operations, who by design has multiple years' experience and who provides clients with unparalleled direct guidance and direction on any creative or technical matter whatsoever.



GAME CHANGING INNOVATION
True Character
Since Day One Mi5 has been inventing, commercializing and embracing new products and methods in print production that continue to pay dividends for marketers who demand a transformational end product and premier service experience.
Founded in Prepress.
Mi5 began as Canada's first all digital pre-press bureau and boutique printer. As customers have requested, so has Mi5 adapted, experimenting with new technology and acquiring the equipment to do a better job for less.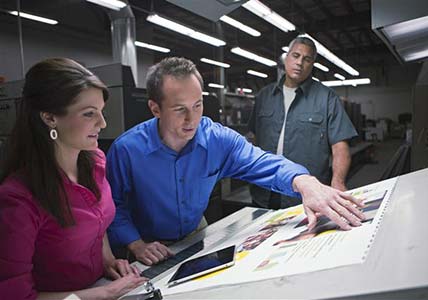 Never Wavered.
Small or large, size has never held us back. Starting in back of an industrial garage 13 years ago with a single 5 color press, forged in the shadows of an industry that had turned its back on craftsmanship and creativity, Mi5 has transformed into Canada's Fastest Growing Printer and a member of the Profit 100 Companies for 5 years in a row. Continuing to invest in top line technology while other printers held back or disappeared, Mi5 now has over 75 state-of-the-art litho, digital, large format and bindery machines ceaselessly working to create something awesome 24/7/365.
Renders True Color
When traditional industry rulers chose to pursue commoditization and sacrifice quality, Mi5 rallied on to lead a new revolution of technological innovation, service intelligence and manufacturing excellence – seeking boldly to deliver maximum value for each and every dollar. Even the fundamentals of print technology were challenged and re-invented.
THE FUTURE IS PROBRITE
Developed by Mi5's in-house gurus, and nationally recognized as a game changing innovation in the print industry by the Globe and Mail, this proprietary system delivers a richer color gamut that is deeper and more vibrant than has previously been achievable. From newsstands to store shelves – from corporate annual reports to direct mail flyers – the reds have more passion, the blues more punch and the yellow is blinding. Choosing Pro-Brite gives you the edge to stand out in a space crowded by mediocrity – where conventional and bland every-day print production is radically eclipsed by the vibrancy and fidelity of craft, science and passion.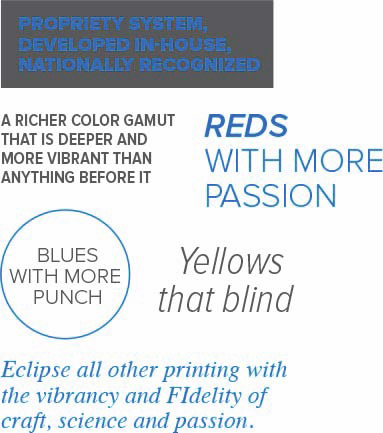 See for Yourself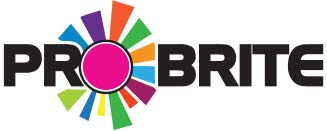 Why Slider
Traditional Litho
Probrite Technology
Let's Discuss
These are entirely unedited photos shot by hand, at the same time, with an iPhone 6 – using basic camera settings with no filters, on the same studio table, under the same color-calibrated lights.
One side shows is a travel marketing booklet printed CMYK process at one of the world's top three largest printing companies. The other side shows the same book as printed by Mi5 using our spectacular ProBrite technology.
Which one do YOU want to market with?
Hint – the one that costs less!
LET'S DISCUSS
SERVICE INTELLIGENCE
The Game Changing Attitude Adjustment Everyone Wants
From a Printer
Mi5 has the experience, knowledge and a winning track record of exceptional service. We have a great history of true partnerships with all our clients and with many of them for a long time. Our retention rates are at levels unheard of in any industry because we simply get it.
Fastest Turn Around Times
We build capacity as required in all areas to match the demands of a growing customer base. In the last three years our finishing department has doubled in size, our print department has tripled, and for large format production now ranks amongst North America's most robust.
Insightful Expertise
Insightful expertise to guide your printing initiatives with little touches to exceed expectations. We bring the dedication, energy and synergy that leads to inspired outcomes. And, well, we'll call you back.
THIS IS HOW WE ROLL AND WE CALL IT SERVICE INTELLIGENCE™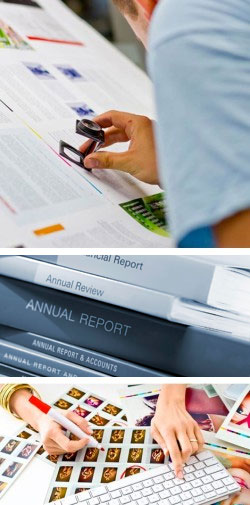 Total Production Integration – One Call Does it All.
Concept and Design

Prepress
Variable Digital Printing & Mailing

3D Modelling & Printing
Small Format Digital

Websites & Online Components

Continental Logistics
Complete Bindery, Die Cutting & Stamping

Sheet Fed & Web Litho Printing
Targeting, Distribution & Research

Innovation and In-House R&D

Kitting, Handwork & Fulfilment
Large Format Printing & Cutting

Post Program Analysis
Total Production Integration – One Call Does it All.
Every market served with experience, intelligence and knowledge. Founded by a former top Brand Manager from Procter & Gamble, Mi5 has the fundamentals of advanced marketing at its core and an account team of Production Passionistas from almost every business segment. Build your customer relationships, grow revenues, reduce costs and improve your marketing ROI with Mi5 production expertise at your service.
ABSOLUTE VALUE
We waste nothing. Not your time or ours.
Web based estimating so intuitive and accurate that all of our people and even some of our customers do their own estimates. Tools that allow production management from a mobile device. State of the art job tracking software. Built in spectrophotometers, remote proofing, best of class technology and machinery.
Planning experts, smart purchasing, our proprietary technology harnessed to make any stock look like a premium sheet. A culture of success measured by the magnitude we exceed expectations.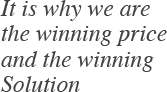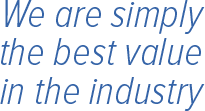 Progressive Vision
Our team of 150+ Print Passionistas, Technicians and Artisans is led by two pioneering leaders who embody why we do what we do to their very core. We all care immensely about Mi5 because everyday we're helping to built a great company to help great companies.
LinkedIn
Derek McGeachie
President
"Printing is what I do and what I have done since I was eight years old. It is what my dad did. I couldn't imagine doing anything else – I still can't – and I have another 30 years to go! We all want to make a profit, but I am convinced that with passion as the main driver from the top down, Mi5 is able to deliver superior quality both in terms of service and final product. A lot of high end marketers say that quality is a given and my response is simply this: "Come on by and have our team put your job onto our press – and compare with the version you ran anywhere else. The quality difference will blow you away." And that's just the beginning."

Steven Tahk
Executive Vice President and General Manager
"I come from a long line of printers, I grew up with ink on my hands. I have watched as the needs of print buyers changed over the years and the industry did follow suit. Mi5 exists to be different. We have been actively defining what it is to be a modern printer from Day One. We offer real solutions and deliver amazing products and services at an often unbeatable price because we can and they can't. We have harnessed passion, customized science, and created the very best technology in the industry. There is a palpable "can do" culture that we celebrate and revel in. Dealing with Mi5 is a very different experience – the kind you have always hoped for in a business partner."